The Worm Farm Learning Foundation
The Worm Farm Learning Foundation, a non-profit 503-C entity was established in October 2008 and has become a hub of constant activity. What started as a tour for a friend's home school group has blossomed into an array of community activity offerings. Our tours have also become one of the hottest field trip destinations for many California North State schools for both young people as well as older folks of all ages.
The Mission of The Worm Farm Learning Foundation is to assist individuals in achieving a higher awareness and better means of producing healthier plants and food while affecting the environment in a positive manner. We provide an educational avenue for individuals to develop a connection with the land, to teach, encourage and help them become aware of the ecological benefits as well as the health benefits of taking care of the soil and of the subsequent environmental enhancements thru the use of Worms and Worm Castings in the soil.
Worms and worm castings are important stepping stones to a healthy and fertile soil, and are big contributors in helping to clean the environment and help reclaim a green and healthy earth.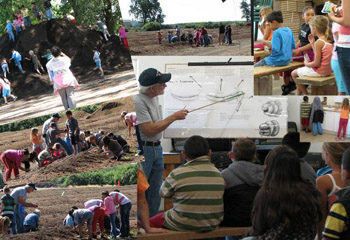 The Worm Farm Learning Foundation believes in giving back too: we support local schools, youth groups such as the Boy Scouts and Girl Scouts, Universities and the community by offering a variety of free workshops, tours and community learning activities all aimed at helping to teach the positive impact that worms have in a sound ecosystem.
The Worm Farm is a family-owned enterprise. We started raising worms after getting sold on the virtues and benefits available from the humble worm and worm castings - and found it much preferable to the poultry farming we used to do. We got into worm farming - vermiculture is a fancy word for it - kind of randomly, by an impulse phone call to a number we saw on a billboard. The more we learned about it, the better it seemed.
Click here to donate now