Raising Earthworms for Profit
A COMPLETE illustrated working manual for one of the most fascinating and profitable of home-money-making or full time business projects.
Price includes Free Shipping.
Price:

$12.00

Quantity: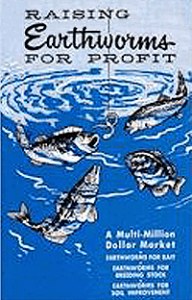 We believe this comprehensive book is more useful to the earthworm grower, or prospective grower, than any other that has ever been published. 128 pages of sound, usable information, with 62 photographs and 37 drawings, presenting many ideas, methods, and advertising and sales helps for the beginning or established grower, including a complete section on the African Nightcrawler.