Rice Hulls
One purely organic way to amend a clay soil is to work in rice hulls. Available in bulk
Price:

$90.00

Quantity: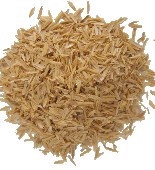 One purely organic way to amend a clay soil is to work in rice hulls, the fibrous material left over after rice processing. Though nearly devoid of nutrients (except for a trace of nitrogen), rice hulls will effectively lighten and loosen a heavy soil, adding organic matter that helps retain water and is slow to decompose. Because of its disadvantages as a fertilizer, it works best when used in concert with compost and other organic soil amendments.
Call for availability and Shipping cost
Suggested application: 5%-20% of total soil mix.
Available in bulk
Weight: Approximately 400 lbs./yard