Worm Bin Accessory Kit
The basic tools necessary to easily manage your worm bin from The Worm Farm.
Price:

$12.95

Quantity: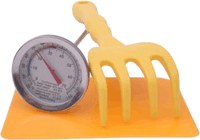 The Worm Farm Accessory Kit provides the basic tools to easily manage your worm bin.
Scraper : the scraper makes it easy to scrape finished compost out of bins and makes rotating trays much cleaner and easier.
Hand rake: the hand rake comes in handy when stirring your compost and transferring worms from tray to tray.
Thermometer: with a color coded temperature guide, our thermometer helps you to keep your worm bin working at an optimum temperature.
Suggested

Eisenia Fetida Redworms by The Worm Farm
Redworms are nature's master composters.

Worm Factory 360
Price:

$109.95
A smart, sustainable design for indoors or outdoors and year-round production.

Can-O-Worms - Extra large capacity
Price:

$156.00
Our largest worm bin - more worms & more worm castings for your garden and fishing needs.
Coco Coir - 1 small brick
Price:

$3.00
An excellent starting material for your worm bin made from coconut husks.

Earthworm Feeds and Feeding
Price:

$10.00
A research report based on many years work and experience solving worm breeding problems.

Raising Earthworms for Profit
Price:

$12.00
A COMPLETE illustrated working manual for one of the most fascinating and profitable of home-money-making or full time business projects.